CHANNOV bushing

CHANNOV is a leading manufacturer in the production Self-lubricating Composite Bushing, Boundary lubricating Bushing, Bimetal Bushing, Wrapped Bronze Bushing, JDB Solid Lubricant Inlaid Bearing, FR Soft Strip, FU Sintered Bushing, FD Soft Strip.
Read more
PTFE coated bushing

1.

 

PTFE/Pb mixture 0.01~0.03mm as sliding layer, provides an excellent initial transfer film, which effectively coats the mating surface of the bearing assembly, forming homogeneous oxide type solid lubricant film.

2.

 

Porous bronze 0.2~0.3mm, provides Max. Thermal conductivity away from the bearing surface, also serves as a reservoir for the PTFE-lead mixture.

3.

 

Low-carbon steel backing 0.7~2.3mm, provides fundamental structural support and gives exceptionally high load carrying capacity, excellent heat dissipation.

4.

 

Tin-plating 0.005mm or copper-plating 0.008mm, provides good corrosion resistance.

Read more
POM coated bushing

Steel backing + Porous bronze sintere + POM
1. POM with lead 0.3~0.5mm
2. Porous bronze 0.2~0.3mm
3. Steel backing 0.4~2.2mm
4. Copper plating 0.008mm
DX is triple-layer self lubricating material that can fill modified POM plastic as surface layer, it is benignant boundary lubrication material, therefore, it is particularly applicable high-load low-speed rotating and wing movement, as well as in the condition that frequent loaded start-stop is the requirement while hydrodynamic lubrication membrane is difficult to form, in the parts such as bearing, thrust washer, sliding block, ball socket and so on, DX can take full advantage of less grease to work long time without lubrication maintenance under boundary lubrication condition, But under oil-free condition, DX the frictional behavior and permissible PV value is relatively low, so generally storage pit can be formed on the plastic surface, where lithium based lubricant grease or silicone grease and so on should be applied when being installed.

Read more
Bronze bushing

Material & chemical composition:
Material: CuSn8 or CuPb10Sn10
Chemical composition: Cu = 91.3%, Sn = 8.5 %, P = 0.2%
Introduction:
The bearings are wrapped of a cold formable homogenous bronze (CuSn8), which will obtain exceptional material properties. The standard sizes are fitted with diamond shaped lubrication indents on the bearing surface. These indents serve as lubricant reservoirs to rapidly build up a lubrication film in the start movement and therewith reduce the start friction. The material suitable for constructions, agriculture etc where high load and slow movement are occurring.

Read more
Bimetal bushing
Bimetal Layers
1. Sinter bronze powder: Good wear resistance and excellent load carrying capacity.
2. Steel backing: Provides exceptionally high load carrying capacity, excellent heat dissipation.
3. Copper plating thickness 0.002mm provides good corrosion resistance.
Introduction:
Bimetal bearings are steel shell backed with a lead bronze lining bearing material for oil lubricated applications. This material has high load capacity and good fatigue properties.

Read more
Solid bronze bushing

Material Structure:
1. Solid lubricant film
2. Solid lubricant plug
3. Bronze backing

Introduction:
Oiles #500 bronze materials consist of highly wear-resistance copper cast alloy whose sliding surfaces are evenly provided with a certain percentage of solid lubricant plugs according to work condition, high-strength copper alloy provides a high load-bearing capacity and the solid lubricant can be formation of low friction film. Under technical dry running conditions, the bearing surface is designed with thick running-in film which enables the solid lubricant to be transferred to the counter material at the first contact.
   When the mutual friction occurs between two non-lubricated surfaces, the two contacts with the uneven surface of the peak by the shear, stick-slip and plastic deformation giving rise to friction and wear. Conventional lubricants can significantly reduce these effects, however, the conventional lubricant will be more and more squeezed out of the contact area with increasing surface which formed the dry friction or boundary lubrication, With OILES 500 material, the lubrication is effected by the sliding material itself, The solid lubricant is released from the friction material by micro-movement. This gives the sliding partners smooth surfaces with a firmly adhesive solid lubricant film, the solid lubricant film remains within the contact area even under heavy loads. The embedded solid lubricant plugs can be continuously provided to the friction surface to reduce friction resistance and wear, thus make the bearing can be worked under low wear rate and long-life service.

Read more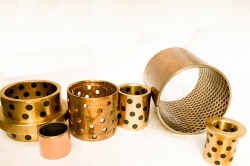 CHANNOV are one expert designer, manufacturer and exporter of sliding bearings and bushings under our own registered brand HIB. We concentrate on researching, designing and producing premium quality sliding bearings and bushings since 1998.